It's her name and our life plan
Laura and I are still having a great time now living aboard Perseverance from January through April in the Caribbean mostly in Culebra Puerto Rico
I have not been adding to this page because it can not be modified with my mobile device. We are updating our adventures on a facebook page. just search Perseverance45rc on facebook and like us. There are some great recomendations for opportunities to take advantage of us being there or at least warm thoughts in the cold weather.
Shared by Nancy B.


Consider it pure joy, my brothers, whenever you face trials of many kinds, because you know that the testing of your faith develops perseverance. Perseverance must finish its work so that you may be mature and complete, not lacking anything. James 1; 2-4 NIV


10-6-13 I'm sorry that I have not posted for a while. We are home in Roscommon now missing the boat that is now laid up at Nanny Cay Marina in Tortola. We plan to return at the end of December. The remainder of the trip went well and we were in Puerto Rico by Christmas last year. We came home in mid January for a month and returned to the boat till the end of April. You can read the ships log to experience some of the adventure of moving a boat that far. (use the menu button Trip from Mi to Pr). We also made several trips to the Virgin Islands last year with friends and family. This year we hope to take a trip with the boat further down the island chain to St Martin and maybe Anguilla. Culebra is everything we hoped it would be and more. We spend alot of time in Michigan encouraging people to come visit the island and can help you make arrangements.
10-30-12 We are back in Roscommon for 4 weeks until after Thanksgiving. The first leg lasted almost 6 weeks moving the boat from Traverse City Mi to St Augustine Fl. The weather was cooperative so we did not lose any days to bad weather. It was not very warm till we got to Florida. Our favorite part was probably the west end of the Erie Canal with beautiful old towns and very friendly people. We averaged almost 60 miles per day so we did not get much relaxing in. The east coast was a lot of fun except when we were worried about going under the bridges on the ICW. Our mast is 63'6" and the bridges are 65 ' at low tide except the one that is 64' at low tide. Once we were held at the bridge for 4 hours waiting for low tide and once we had to get up in the middle of the night to move the boat under a bridge. We were back outside after Cape Fear and arrived in St Augustine just as tropical storm Sandy was reaching Cuba. We will be going back down the Sunday after Thanksgiving to complete the move to Puerto Rico. Look forward to following us again on the spot link in the paragraph below. Happy Sailing Jim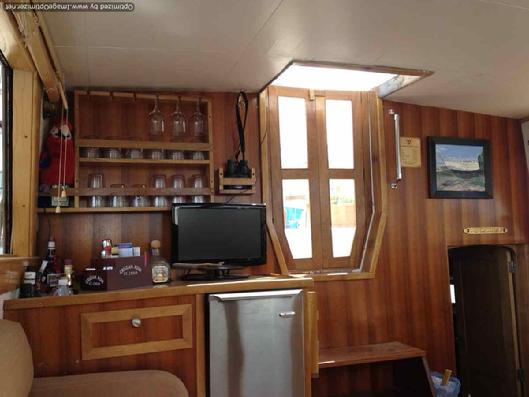 The new bar is ready
9-10-12 Only 5 days left till departure. At least the bar is ready. Plans are coming together with stops currently planned for Macinaw City, Rogers City, Harrisville, Harbor Beach, Port Huron, and St Clair Shores. We may be at the dock on 9-19 in Port Huron and 9-21 at St Clair Shores for friends and relatives that want to come and see us off.
Here we are on Grand Traverse Bay. This picture came from my friends Jeff and Sue. We are making our plans for the trip to Puerto Rico this fall. Those interested in helping with the move should contact us. you will need to provide your own transportation to the point you join us and from the point you leave us. There is a good possibility we will be traveling out of the country so passports will be required after leaving the coast. Plan is to leave TC about Sept 15, Detroit Sept 23. Erie cannel to NY Sept 28-Oct 10. Norfolk Va to PR Nov 1 to Dec 15 ?
New gally with Laura's first tile job.
1-24-12
I am working at home on the solid surface counter tops for the galley and heads while waiting for spring. I also plan to work on a new companion way door and panels for the convertable state room. We plan to launch in early June and return to Grand Traverse Bay for the summer. Looking forward to lots of company for the boats last summer in Michigan, at least for a while.

10-20-11
The boat is back at Yacht Haven for the winter hopefully for the last time. We had a awesome summer in the Grand Traverse area. The trip back was not uneventful with heavy wind and waves in northern Lake Huron we lost the engine. Yes we could have put up sail but it would taken us to Cheboygan. Laura manned the fordeck with anchor in hand while I went below and cleaned the water from the filter. It was a rough 45 min. but she refired with only a slight tast of diesel left to remind me. It was not dificult to put her up in rainy weather but the visit two weeks later in 70 deg. sunny weather was hard. I have projects at home for the winter including counter tops and cabinetry. Check out the new page showing the Islander ready to sail.
July 18,
First let me offer prayers to the family and friends of lost sailors aboard WingNuts during the Chicago to Mackinac race today. We have moved Perseverance to the Traverse City area for an extended visit and launching point for more travels. The trip took 3 days, mostly with little wind. The first day we d crew of 7 with Laura and I , my sister Lisa and my cousin Mark Hunter visiting from Thailand with his Family Joann Brook and James. We lost steering control as we neared Mackinac Island and had to fight her into the harbor at Mackinac City. After a check of the systems it was discovered that the inoperative autopilot was inadvertently turned on. The next 2 days were less exciting with little wind. My all girl crew, Laura, Lisa and neighbor Kami did a great job of keeping spirits high. We stop in Charlevoix for the night and had a steel drum band greet us. The last day we stopped at Northport for lunch and then on to Old Mission harbor where we were greeted by friends for our night on the hook. We went back this weekend and had lots of fun with plenty of company. We are looking forward to the rest of the summer with as many trips as we can get in.

9-23-2010
It has been a very productive summer. Traveling may be less than we had planed but we managed to get a lot of work done. The bow thruster and swim platform have been teriffic additions. I can not wait to swim off the platform in warm caribean waters. We did make it to Canada once to visit Chuck and Judy and Chuck said it sailed more impressivly that he expected. It is September and we will be taking her out of the water soon. We will be up for Fall Festival and hope to see every one and maybe one last sail. Plans for the winter include cabinet making and some fiberglass work for the heads. With the outside pretty well done we should be able to put her in the water earlier next year. Plan to visit and sail next year.

Let us know you were here. Or use the guest book on the Contact Us page.